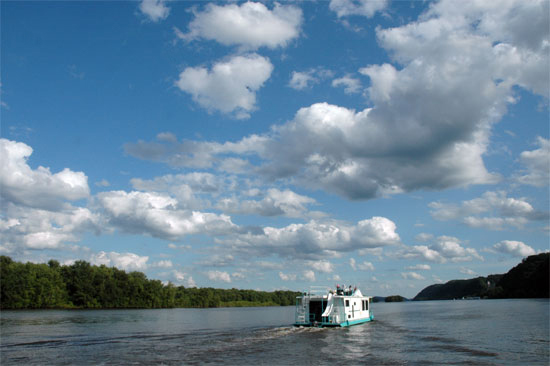 Up the River
Wondering where we've been, eh? Cruising the lower west side of Wisconsin by bus and floating down the Mississippi River by houseboat, disconnected from the rest of the world, for the most part since last Thursday afternoon, when we arrived in McGregor Iowa, a quaint little river town that was established in 1839. Here we switched from bus to houseboat along with 5 other families who we've known for many years (we all grew up in Waukegan, Illinois, just north of Chicago).
What inspired this trip was a similar houseboat trip that several of us took as kids over 30 years ago, from the same exact place, Boatels. In fact, the same guy has been running Boatels since the 50s!
Without a doubt, we had all the right ingredients for a memorable adventure: 18 kids from ages 4 to 21, 4 dogs, including two, tireless 8 month old Lab pups, and 3 houseboats, two of which appeared to have survived many years in the hands of novice river captains, learning to navigate the Mississippi with 10 minutes of dock-side training under their belts before shoving off. And piloting a houseboat is no simple feat. Basically, you have the equivalent of a rather large RV on pontoons, with a wimpy little outboard motor that can barely get the thing going in a direction other than downstream. Seems like it should be easy enough to point it in one direction and go, but we quickly found even the simplest driving quite a challenge.
So off we went, up river, on a wonderfully sunny morning, to look for a nice beach, with nary a barge to get in our way. An hour into our trip, 2 of the 3 boats had conked out. One managed to anchor in mid river, while the other drifted downstream a ways, until it found some trees to tangle with at the river bank, since virtually all low lying land was still under water with the river being so high from recent rains. The anchored boat was unable to get their motor started, but that didn't stop them creating a wonderful Italian luncheon consisting of lumpy pizza (pan fried in oil, not baked) and breaking out the wine. So we headed over, docked along side and joined the feast while we waited for help to come. Meanwhile, the other boat radioed distress signals, having not stocked up quite as heavily on food and wondering when lunch and perhaps some mechanical help would arrive. Once satiated, we cruised over with pizza and wine and everyone was happy.
Help would arrive and make two return trips (to get more parts and another outboard motor expert), but by that time we were so enjoying the company and the river as it flowed by, so who cares if we stopped a bit unexpectedly for lunch mid-river? Eventually, our mechanics got the boats running and we made our way about 15 miles up river to what appeared to be one of the only little sandy beaches that was high enough to stick out of the water. Although we managed to beach our yatch quite nicely, the others caused some panic amongst our neighbors on the beach with their D-Day like docking maneuvers. No one got hurt and everyone had a good laugh, except the neighbors, I guess, since they regularly glanced our way, maybe wondering what all that wine would do to us now. I think we all slept well.
More to come!
Posted by mark at
01:45 AM
|
Comments (3)