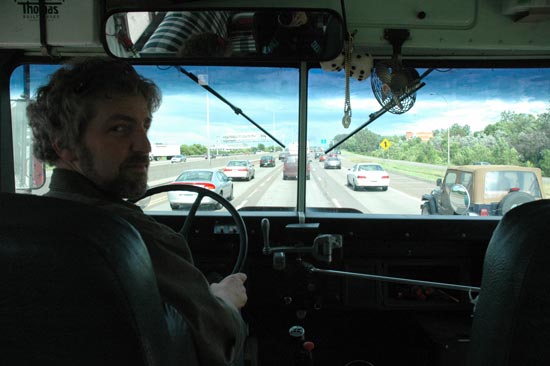 Rush Hour Vacation
Bleah! First leg of the trip and, what's this? All of Minneapolis seems to be taking the same highway that we're using for our vacation. "Get outta the way! We're in a hurry to go on vacation here, can't you see?"
Niklas and I headed to Dutch Hollow Lake, near the Dells in Wisconsin to pick up the rest of the family, who arrived there by train a few days ago. Nik even took a turn at the wheel while I took a nap. We arrived after midnight to an excited bunch of kids who had been waiting all day and night for us to arrive. Apparently, they could hear the bus coming from several miles away... I didn't realize how noisy this thing was!
Tomorrow, we're heading down to McGregor Iowa to take a weekend trip up the Mississippi River on houseboats with a bunch of old family friends, then we'll be back on the road, Sunday night. With luck, we'll get a WiFi or GPRS connection on the Mississippi, but if not, you may not hear from us for a few days...
posted by mark at June 23, 2004 11:34 AM