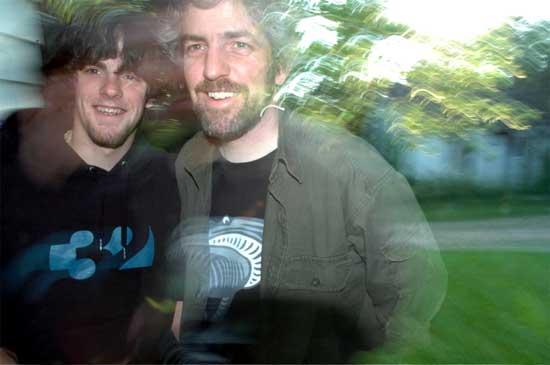 The Graduate
Nik, fresh outa Berkeley High, hanging with his pop (as uncle Eric demonstrates advanced flash photo techniques.) On our way out to Minneapolis last night, on the red eye from SFO, the sleep deprived evening started with me trying to board Sun Country with a bag full of sharp, pointy, heavy metal bike tools... what on earth was I thinking?
A 3 hour flight got us to Minneapolis at 5am, and with nothing else to do but take advantage of the morning light, Eric and I drove around the city shooting photos here and there while Nik caught a few much needed z's in the back seat. Minneapolis is a great city with some impressive buildings downtown, but a small town, neighborhoody feel almost everywhere you go. Back to Eric's for a nap.
This afternoon we stopped at REI to pick up all the bikes and racks and gear I bought on the Memorial Day weekend sale, but nothing seemed to be in storage and they had no record of me or my wallet's blood-letting of a couple weeks ago. I stayed calm, got out my Mac (gotta fight fire with fire) and showed 'em MY computer record of the sale. Manager types appeared, hunted and unearthed the goods. On to the next battle.
This evening we went off to see the bus and inspect the newly constructed roof deck and found few rough edges that need grinding and a wimpy grade of plywood that's not good for bus decks, ugh! But hey, that's why we got here a few days early... and what could be a nicer way to spend father's day than with his first newly minted high school graduate?
posted by mark at June 20, 2004 10:13 PM