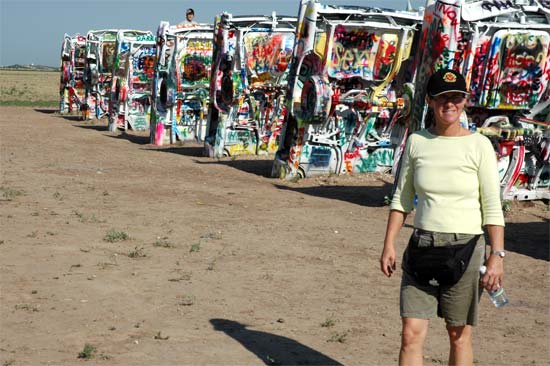 Cadillac Ranch
Along the road in Texas
* Texas smells different--Driving I-40 into Texas late at night, it was nearly impossible to tell that the long boring stretches of western Oklahoma prarie/desert (steppe?) had become long boring stretches of eastern Texas panhandle. Of course it was dark, and the bus droned on with the same flatness and straightness of road. However, Texas smelled different for some odd reason, a funny sweet smell of sage, cattle, tumbleweed and a hint of crude. After some time, the droning turned to groaning as the bus struggled with the wind or maybe clogged fuel filters. Hours later, upon entering New Mexico, we somehow arrived at an elevation of 5000 feet. We must have been climbing the whole way through Texas and didn't even know.
* Largest cross in the Western Hemisphere--Sunday morning, somewhere just east of Amarillo, an enormous white cross appeared on the horizon that could be seen for miles. Gotta see it to believe, a billboard said. The largest Jewish star in the Western hemisphere was nowhere to be seen.
(if you weren't up late last night, go see the July 3rd posting, too)
posted by mark at July 4, 2004 08:19 AM